1. Summary
The aim of the "Digital Typhoon" project is to be a good example as the application of meteoinformatics to large-scale real-world issues. Hence the two big challenges of this project are (1) to build, for the typhoon image collection, a large-scale scientific databases which are the foundation of meteoinformatics, (2) to establish algorithms and database models for the discovery of information and knowledge useful for typhoon analysis and prediction.
:: Search the Typhoon Image Database (www.digital-typhoon.org) ::
2. Purpose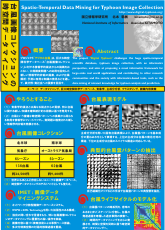 Collect as many typhoon data as possible from satellite observations to establish the comprehensive archives of typhoon data.
Apply various informatics-based approaches (meteoinformatics) such as pattern recognition, computer vision, data mining, to typhoon image collection as a real world large-scale application, and investigate new frameworks and developments to spatio-temporal data mining techniques.
Discover new methods and knowledge relevant for typhoon analysis and prediction from a different viewpoint in comparison to a meteorology perspective, and moreover use those new techniques for the socially relevant problems such as early warning, or the discovery of the precursors.
3. Major Research Challenges
Typhoon Image Collection
Collect satellite typhoon images that are consistently high quality and cleaned throughout the image collection, and also appropriately tailored for meteorological applications.
Data Mining
Discover new knowledge from the collection of typhoon data archives. This includes traditional data mining approaches, but the chaotic nature of the atmosphere poses challenge to those approaches. More interesting approach is to find or predict a rare but important event from typhoon cloud patterns.
Mathematical Representation of Typhoon Cloud Patterns
Represent typhoon cloud patterns in a quantitative way. This method should represent complex cloud patterns that change rapidly along time.
Typhoon Multimedia Database Systems
To make the most of the typhoon image databases of several tens of thousand images created from typhoon image collection, we have to create solutions to the following list of challenges.
4. Demonstration